Web hosting, email and domain included in the price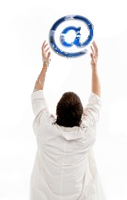 We booked a domain of one of the most common types (. Com /.'s /. Net) for you. We will make all efforts, simply tell us the name of your interest and if available, the website will be published in, for example, www.sudominiopreferido.com and email address will sunombre@sudominiopreferido.com.
You no longer have to change email address if you change your adsl provider, your address will be the same and will have full control over it, since the retention of title is done in your name.

You can tell the domain of your choice by using the following registration form in MS Word. Please note that we can only reserve a domain name if available.

Check if the domain you want is available:
The offer includes

email accounts

(

pop3

and

webmail)

and the web server

at full speed

and

without publicity.