Managed Web Extension: multiple languages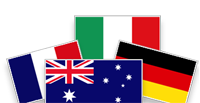 Having a multi-language website improves the visibility of a company, both for companies with an international (English, French, German, Italian, ...) and for those with regional interests (Catalan, Basque, Galician, .. .). That is why it is increasingly common to extend the number of languages ​​in expanding corporate websites the final scope.

The language management platform will allow you to reduce costs and maneuverability. Juzque for yourself at our demo de web. Moreover, the increase on the base price is calculated from the number of additional languages ​​required:


An

additional language

: Increased

high

30

€

+ 30

€

/

year

maintenance

.

Two

additional languages

​​: Increased

high

50

€

+ 50 €

/

year

maintenance

.

Over

two additional languages

​​Increase

20

€

/ language

high

+ 20

€

/ language

/

year of maintenance.
To request a multi-language website will have to send by email a copy of High application form in MS Word for each language required with previously translated content.

Remember: It is optional, if not most languages ​​need not have to pay.