E-commerce opens the doors of his business to the world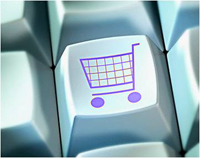 In a shop there are two types of pages: those with content explanatory as texts, images or videos (see sample page Posted in videos) and secondly catalog pages products. We maquetaremos for you the first with the content you send us initially, and within hours will its running store for you to upload your products and sort them into the categories you want.
You can send email content downloading our high application form in MS Word in which completed all the data needed to create a new website.
If you want to see all the designs available from which you can choose the of your website, visit the website of our web designs sample and choose the template design you convince.
Once you have created your website, you have access to all pages to add, remove or modify text and images easily and quickly. Similarly, you can manage the products and customer orders. No additional cost you can manage everything related to your day to day web yourself how, when and how often you want.

The main advantages of self-management are:


Speed ​​and

savings.

Why wait

for others to

update their

website

if you

can do it yourself

in minutes.

By having

full control over

your page

can update your

content

so

that customers

who visit

will be

up to date with

news from

your company and your

products.

Changes in

your page

will

not

pay extra

entail

.
Catalog

updated

always

.

You always have

your catalog

products

daily.

You can

remove

those who no longer

serve

,

or

add

new products

immediately

.

Change

yourself

price

for

specific promotions

.
Content control

.

We give you the

ability to add

,

remove and

modify

text and images

from any

web

page

Easy to

use

.

With an easy

management

panel

where you will find

the necessary tools

, you can make

the changes

you want with

some

basic computer skills.



More

services and facilities for

you and your customers

for little money.